Websites designed to target your ideal audience, showcase your business and be a total breeze to maintain!
Custom Squarespace Website Design
Do you wish your online space reflected your businesses brand and personality? You've gone to the trouble to create a beautiful brand and logo, but when you look at your website it just doesn't reflect the professional, awesome business that you are.
Does the idea of getting your business online or updating your website kinda freak you out? You can deal with tech, but there's something about the unknown of websites that has you worried something's going to break.
A website is a tool to be used to grow your business, not just something that sits there looking pretty.
(although it can still look pretty!)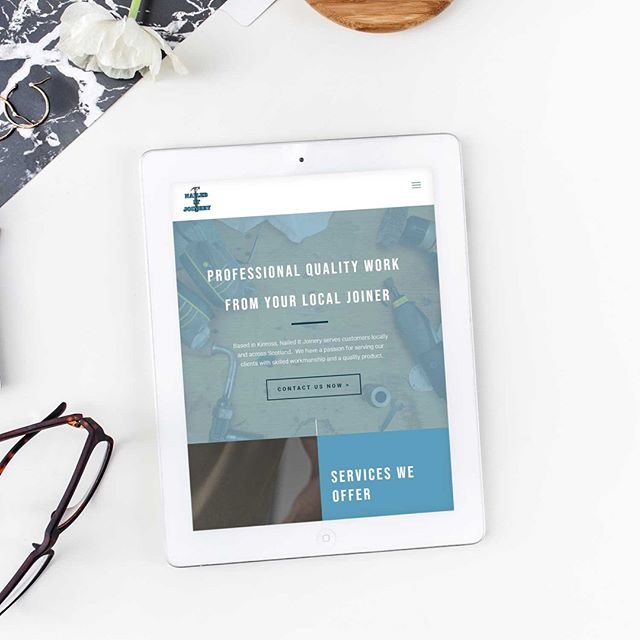 "I just wanted to drop you a wee email to say I've managed to do my first update on the website and you're right, it is really easy to use and easy to automatically update our Facebook page. We genuinely can't thank you enough. The website is absolutely fantastic."
I have two main goals when working with my clients…
That you walk away with a strategic website that reflects your business, that connects with your ideal customer and, ultimately, helps to grow their business.
That you have the confidence and tools to maintain and update your website going forward, which in turn grows engagement with your community.
THE WORKS
custom website design package - now booking Oct 2019
What you get:
A fully customised, bespoke website tailored specifically to your business and your target customer.
A kick-off planning guide that will walk you through gathering the content you need for your site.

Up to 10 designed and fully customised pages - eg. home, about, contact, blog, services (with option to add more)

Custom icons, headers & buttons to make your website look cohesive and really stand out

Personalised tutorial videos allowing you to maintain and update your own website

Integration to your existing social media accounts.

Basic SEO optimisation, to get your found online.

Mobile compatible design
Investment: £750 | Project length: 3 weeks
How it works:
Every project is different, but in brief, this is how we will work.
You fill out a design questionnaire, then send me through your branding and content.

I put together a live homepage for you to review and comment on. We will work together to create a design you are delighted with.

Once the homepage is sorted, I will whip up the remaining pages. We will go through these and make any tweaks to the layout and design before sign off.

Connect your domain (web address) and we're live, pal!

I will send over your training videos that walk you through how to update your site, and will be available by email to help you with any problems.
Kirsty became like a mind-reader and quickly honed in on what I liked and the style I was trying to achieve. Needless to say, I now love my website!
MAKE RUNNING YOUR BUSINESS EASIER WITH A SMART WEBSITE
A website should be…
A tool you use to grow your busiess
Easy to you, update and maintain yourself
Connect with your ideal customer
Be beautiful but easy to navigate
A website shouldn't be…
Something never changing and stagnant
Complicated and have you scared to touch it
Be overly complicated and fussy
A source of stress and worry
Let's get your business online
£750
Next start date October 2019
+ What platform do you use?
I use (and love) Squarespace for all of my website. I go into detail in this blog post about why I love it so much, but the short answer is that it is extremely user friendly for my clients to use after I hand the site over to them. It also allows me the creative freedom to create a beautiful bespoke website that can be strategic, smart but simple to use.
+ How much is hosting?
As I mentioned, hosting is provided through Squarespace and will be s paid directly to them. You can may monthly or annually and with the annual package you will receive a free domain (website address) and as I am a member of the Squarespace Circle, I can offer you a 20% discount on your first year. For current Squarespace pricing, click here.
+ Can I transfer content from my existing site?
Yes. If you have an existing website with a blog I can transfer this across to your new website.
+ How long does it take?
From your start date it will take around 4 weeks to completion. Before we start I will ask you to gather together your text, images and logo/brand information so when that start date arrives, we're ready to dive straight in!
+ What do I need before we start?
As I mentioned above, before the project starts I will ask you to collate all of the images you'd like to use on your website, as well as text for the various pages you will need. So that's things like your menu, your story for the about page, gallery images. Don't worry though, I will provide a content planning kit to help you gather all of this information together.
+ I've never had a website before, will I be able to update it myself?
Yes! I would never leave my clients high and dry with a website they are scared to touch. The best way to build your Google ranking is through an active and up to date website so I want you to feel confident in managing your own website. When your website is complete you will have access to 'just for you' tutorial videos that will walk you though making small text updates, adding to your galleries, posting a blog and pretty much anything else you think you'd need to know.
…designer and business owner!
I remember back when I was a baker trying to balance keeping up with orders with marketing and promoting my business. It can leave you're head spinning!
By working together, we will create a beautiful and (more importantly) clever website that will attract new customers on auto-pilot and streamline your order process!
NEED SOME INSPO? CHECK OUT MY FOLIO!